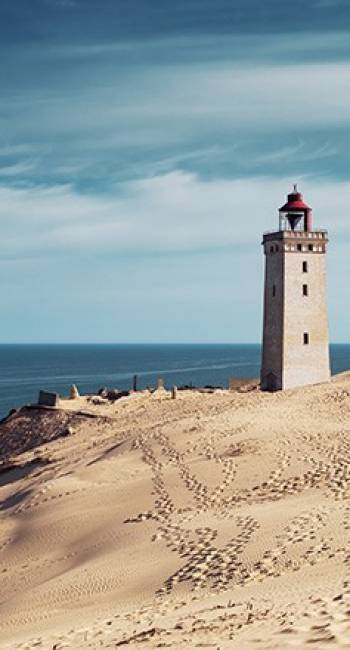 Tiden er moden til at udvikle turismen i Nordjylland
Det nye, internationale turismeprojekt "Top of EU" skal sætte Nordjylland på verdenskortet. Det er i hvert fald den klare vision hos en af initiativets bagmænd, Karin Gert Nielsen, der sammen med en gruppe fra erhvervslivet i region Nordjylland har taget opgaven på sig at styrke den internationale turisme til området.
Faktisk skal man finde idegrundlaget til dette nye initiativ hos mediemogulerne fra New York Times. Det var nemlig deres omtale af Aalborg i foråret 2019, som verdens ottende bedste turistdestination, der satte gang i projektet, som er et samarbejde mellem nordjyske kommuner og nordjysk erhvervsliv.
"Det overordnede mål er, at vi skal have positioneret Nordjylland, som en vigtig del af rejseoplevelsen i Europa. Der er et enormt potentiale i området, men det er fortsat uudnyttet. Derfor skal vi et spadestik dybere end en flot turistbrochure, for at fremhæve alt det, der er unikt og særligt ved området – stemningen, menneskerne og de lokale stemmer og de autentiske oplevelser. Kort sagt vi skal have den nordjyske DNA frem i fortællingen" lyder det fra Karin Gert Nielsen, der er adm. direktør i PR-, salg- og marketingbureauet Atlantic Link – som netop har speciale i international markedsføring inden for turisme, der tilføjer:
"I første omgang vil vi primært henvende os til den helårsrejsende amerikanske kulturturist, som er velfunderet og over 55 år gammel. Her gemmer der sig et stort potentiale, hvilket også hurtigt stod klart for vores tætte nordjyske partnere, ført an af Aalborg Lufthavn, men som også tæller en række andre vigtige samarbejdspartnere fra erhvervslivet."
Udover de førnævnte aktører er det hollandske flyselskab KLM også gået ind i samarbejdet. De har fire daglige afgange mellem Amsterdam og Aalborg, hvorfra de har direkte forbindelse til et af de største rutenetværk i USA gennem deres partnerskab med Delta Airlines.