VISIT QATAR NORDIC ROADSHOW
CASE
Category:
Event Management, Trade, Sales, Strategy
Visit Qatar Nordic Roadshow in February 2023
CHALLENGE
Qatar has been best known as a stopover destination due to the Qatar Airways hub in Doha. However, Visit Qatar's tourism strategy aims to grow annual international visitor arrivals to six million by 2030. This ambitious goal led Qatar Tourism to hire Atlantic Link to plan a Roadshow to introduce Qatar hotels and DMC's to the Nordic Travel Trade, with the aim of increasing visitation to Qatar from Scandinavia and Finland.
SOLUTION
With the Visit Qatar Nordic Roadshow, we created a buyer-seller platform to activate synergies between the Nordic outbound travel trade and suppliers from Qatar. We targeted four capitals: Helsinki, Stockholm, Oslo, and Copenhagen. The four cities account for the highest outbound travel from the Nordics and host some of the biggest travel companies in the Nordics.
RESULTS
With more than 400 travel agents signing up for the events and a long waitlist, we have proven a high interest from the Nordics to learn more about Qatar as a travel destination. Qatari hotels and DMCs have reported gaining relevant leads for potential future deals and the Roadshow received a high satisfaction rate of 5 out of 5 from the exhibitors.
Partners
During Visit Qatar Nordic Roadshow in February 2023, we had 14 partners from Qatar representing hotels, DMCs, MSC Cruises, Finnair, and Qatar Airways. The partners met up with 400 travel agents and tour operators across 4 capital cities in the Nordic region.
1-on-1 Meetings
Focused meetings allowed for dedicated facetime with each buyer. Travel agents were handed a questionnaire with questions about each exhibitor, to ensure focused meetings. Our setup allowed all travel agents to meet each exhibitor in a window of five minutes minimum.
Market Update
A detailed Market Update of the individual Nordic country was given to the exhibitors prior to each event. This allowed the exhibitors to prepare to meet the travel agents. Furthermore, the exhibitors reported that it was helpful in terms of strategizing for each market in the future.
Benefits
The Roadshow format allowed for targeted business conversations and the exchange of contact information between Nordic travel agents and DMCs/hotels in Qatar. The exhibitors had the assurance of meeting pre-qualified buyers with a higher chance of conversions post the roadshow through our carefully selected list of contacts.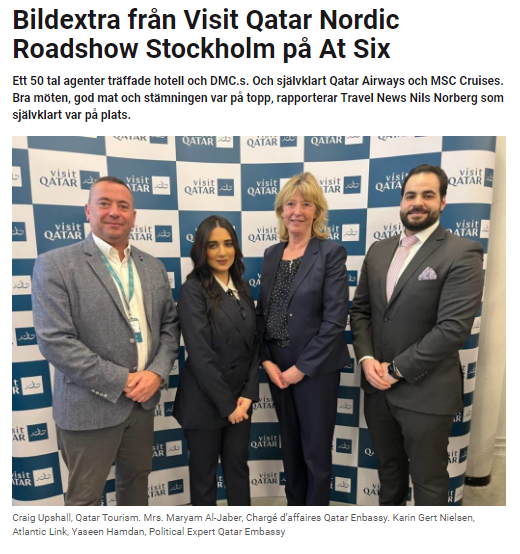 Media Coverage
"Travel Agents met hotels and DMCS as well as Qatar Airways and MSC Cruises. Great event, good food, and an excellent atmosphere." – Travel News Sweden
"In order to strengthen the connection with Nordic travel agencies and increase Nordic tourism to Qatar, the national tourist board Visit Qatar has had representatives from tourism actors in Qatar on a roadshow to four Nordic capitals, including Copenhagen." – Standby Denmark
Video
Visit Qatar Nordic Roadshow video
Receive more information about our destinations and travel products
Since 2000, some of the world's most beloved destinations and
hospitality brands have trusted us with growing their business.








Atlantic Link Is a Proud Member Of
DBTA
Danish Business Travel
Association
IAGTO
International Association
of Golf Tour Operators
PATA
Pacific Asia Travel
Association
SBTA
Swedish Business Travel Association
Travel Agency Association
(Scandinavia)
Travel Writers Association
(Scandinavia)
USTA
U.S. Travel Association